---
Location:

Long Beach, CA MAP
Event Date:

April 7 - 9, 2017

---
Summary:
Join The Racers Group on the streets of Long Beach to take in the 2017 Long Beach Grand Prix. This race experience weekend grants guests access to all racing events happening during the weekend including the WeatherTech Sportscar Championship, Pirelli World Challenge, and Indy Car races. Be a part of the TRG team, and gain VIP access to TRG's race paddock, mingle with the drivers, watch the crew while they're hard at work on the racecars, make valuable connections with our "inner circle" of guests, and more. Experience a taste of the good life with exceptional hospitality throughout the weekend, including an exclusive wine dinner at Los Angeles' Porsche Experience Center. Adobe Road Winery will be pouring its award-winning wines alongside elegant courses prepared by Porsche's 917 Restaurant. Our Motorsports Experience packages grant you access to the inner workings of TRG. Enjoy the racing experience like a true insider.
---
---
RACE EXPERIENCE ELEMENTS
---
Paddock Pass & Credential
Unlimited access to race paddocks, join TRG behind the scenes during the race, up close and personal!
TRG Exclusive Access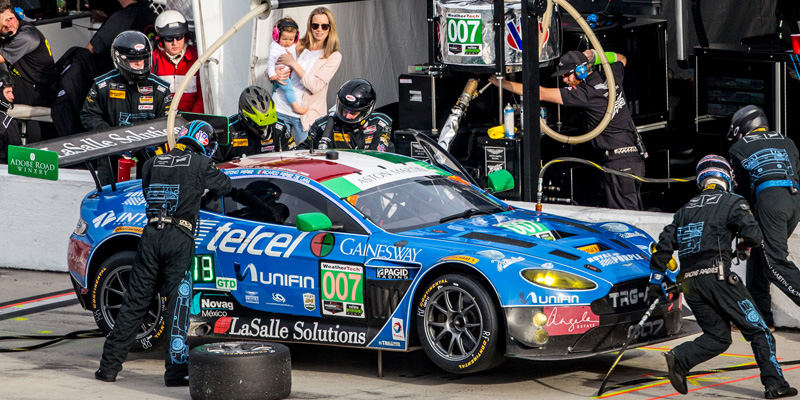 Be a part of the race day team strategy meetings. Sit on the pit box and tune in to the team owner, control tower, and drivers during the race.
Networking Access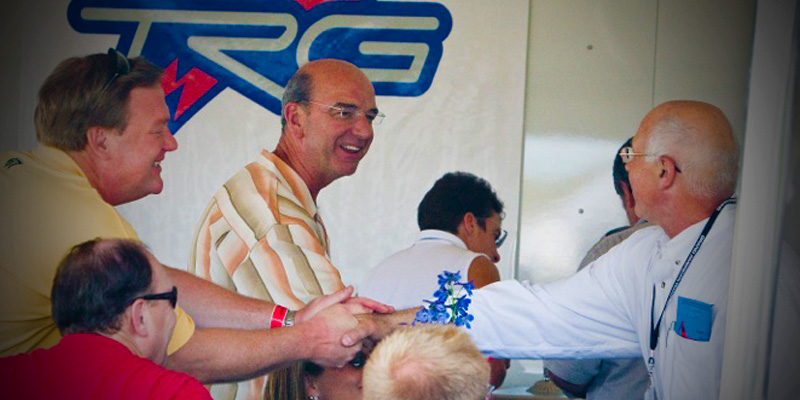 Gain access to our intimate circle of race enthusiasts & business colleagues.
DRIVER Q & A Session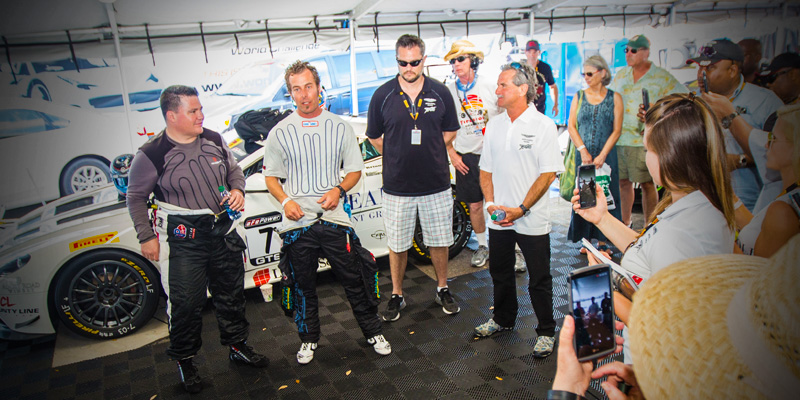 Meet and engage with the TRG team and drivers. Ask questions and get to know the sport from the inside.
Photo Keepsakes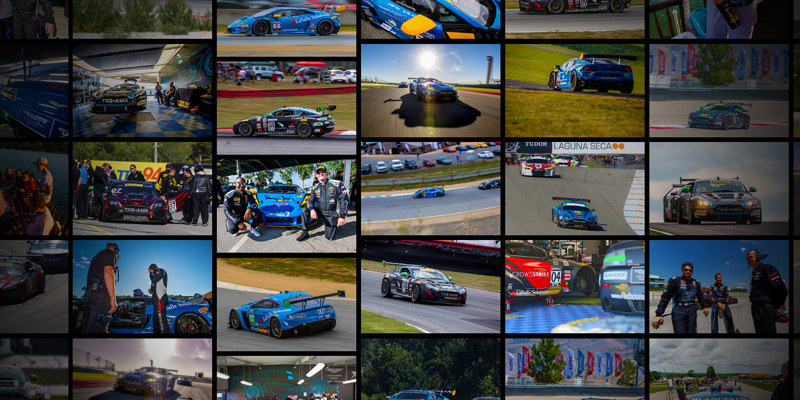 Receive complete access to the team photo gallery. Download and print your favorite pictures!
Hospitality
Hospitality arrangments will be made for all TRG guests.
3 Day Seaside Club Access

Relax in the elevated, canopied club above the track located near the end of the high-speed Seaside Way back straight. You'll watch the cars as they set up for the all- important Turns 9 and 10 and famous hairpin turn before hitting the front straightaway. Closed-circuit TVs, continental breakfast, and buffet lunch (Saturday and Sunday). Complimentary beer, wine and soft drinks Saturday and Sunday with full-service cash bar available to guests.

Adobe Road Winery Dinner

Friday night TRG and sister company Adobe Road Winery will be entertaining guests at the Porsche Experience Center's 917 Restaurant. Elegant food will be served complimenting award-winning Adobe Road wines while enjoying the camaraderie of other racing enthusiasts.

Access to All Series

Enjoy full race credential access to all available Grand Prix Series including the IMSA WeatherTech Sports Car Championship, Pirelli World Challenge, Indycar, and more…
PLATINUM ENHANCEMENTS
---
Roof Top Viewing from Hyatt

Take in the race from the most sought-after vantage point, the Vista Club, located on the roof of the 17-story Hyatt Regency Hotel. This elevated perspective provides views of the front straightaway and turns 1 through 6. MORE INFO

PEC Enhancement

Experience first hand the thrill, excitement, and power of piloting a Porsche. Gain exceptional driver instruction, ride at high speeds with seasoned veterans, experience offroad and ice conditions, explore the gallery of historic Porsche racing accomplishments, and take the wheel as you experience the power of these awesome vehicles. LEARN MORE ABOUT THIS ENHANCMENT *THIS ENHANCEMENT OPTION IS NO LONGER AVAILABLE.*
Pricing
---
Get Recognized as a Global Brand

Partnership Opportunities Available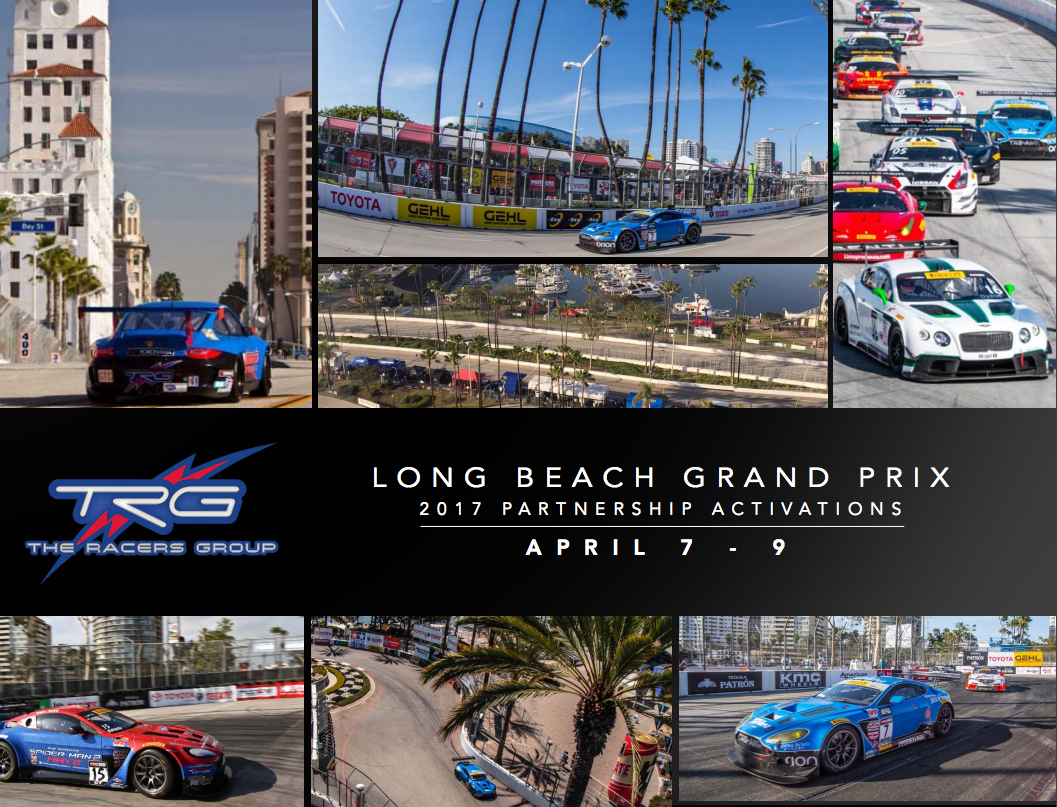 The Racers Group has limited opportunities still available to become a partner for the
Long Beach Grand Prix, April 7-9, 2017

. TRG's #991 Porsche 911 GT3R is set to rule the track in Saturday's IMSA race with two of the best drivers in the paddock, Wolf Henzler (Porsche Factory Driver) and Jan Haylan (world class pro driver). Join us for the weekend and an opportunity to bring guests to meet and greet team owner Kevin Buckler, meet the drivers, participate in world class hospitality, receive amazing team gear, social media and PR exposure, collect new high resolution photography for your marketing needs, enjoy an evening drinking award winning Adobe Road wines at the Porsche Experience Center in Carson, CA, and so much more.

Email for more info: robert@theracersgroup.com
These packages are being met with high demand and are extremely limited. All packages are subject to a first come – first served basis and are not guaranteed. For questions, information or possible enhancement features such as special access, golf carts, or customizations please contact us
info@theracersgroup.com
(707) 935-3999.