"The Turn Key Track Weapon"

TECHNICAL SPECIFICATIONS
Layout / number of cylinders
Fuel consumption/emissions*
Acceleration from 0 – 100 km/h (0 – 62 mph)
Elasticity 80 – 120 km/h (50 – 75 mph)
Acceleration from 0 – 200 km/h
Luggage compartment volume
425 litres (150 l front / 275 l rear)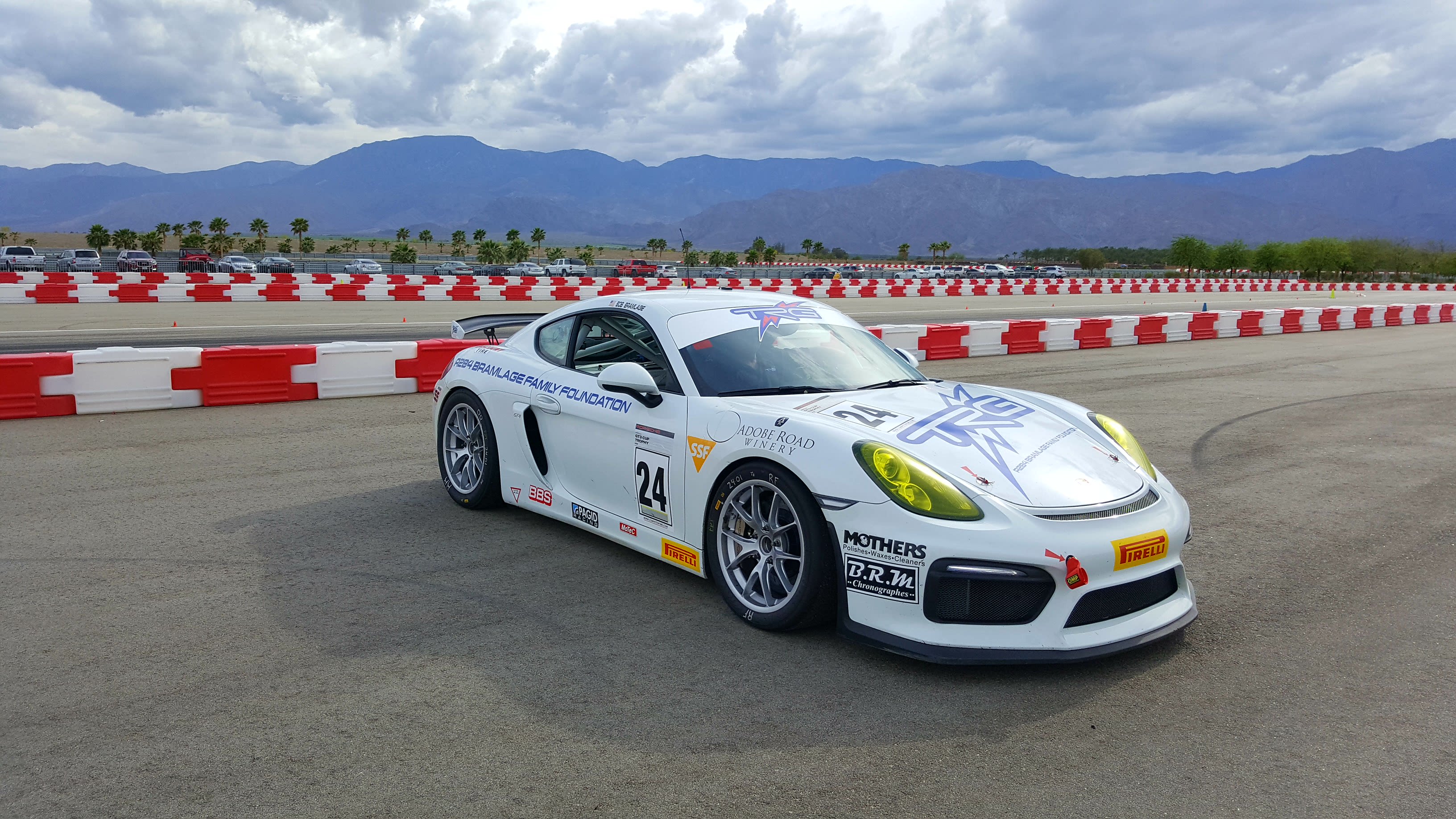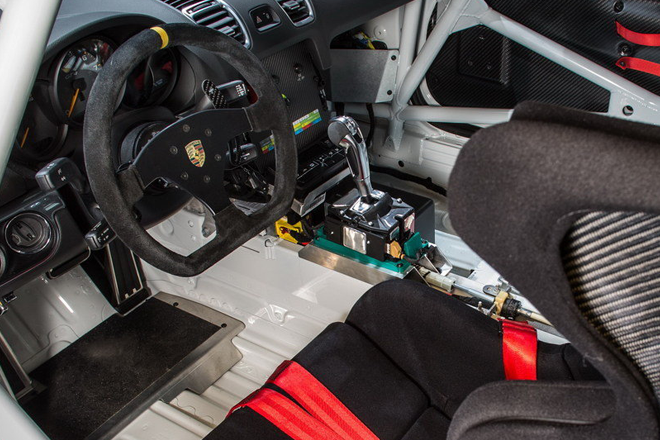 BRAKING SYSTEM
Acceleration values are not the only markers of GT heritage. With the new Cayman GT4, braking performance is also a key to success on the racetrack.
That's why six-piston aluminium brake calipers with a red finish are fitted to the front axle and four-piston equivalents are fitted at the rear. Their monobloc design makes them extremely resistant to deformation and enables a more rapid response and release of the brake, even under heavy loads.
With a diameter of 380 mm front and rear, the brake discs are generously dimensioned. They are cross-drilled and internally vented to offer a high level of braking power, even in adverse weather conditions. To ensure excellent stability under load, the brake system also benefits from an efficient brake ventilation and cooling concept in the form of independent cooling channels as well as brake air spoilers and air deflector blades.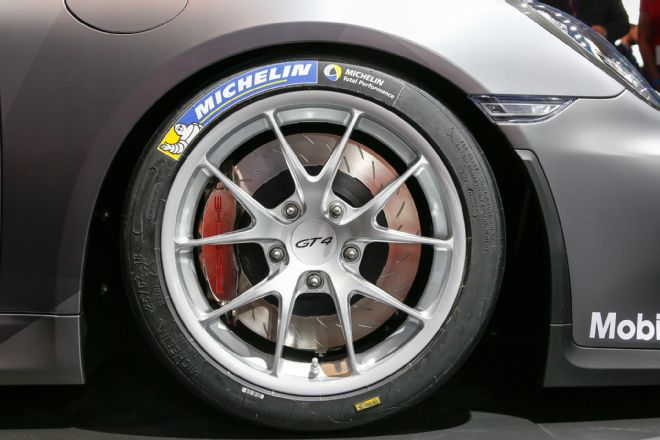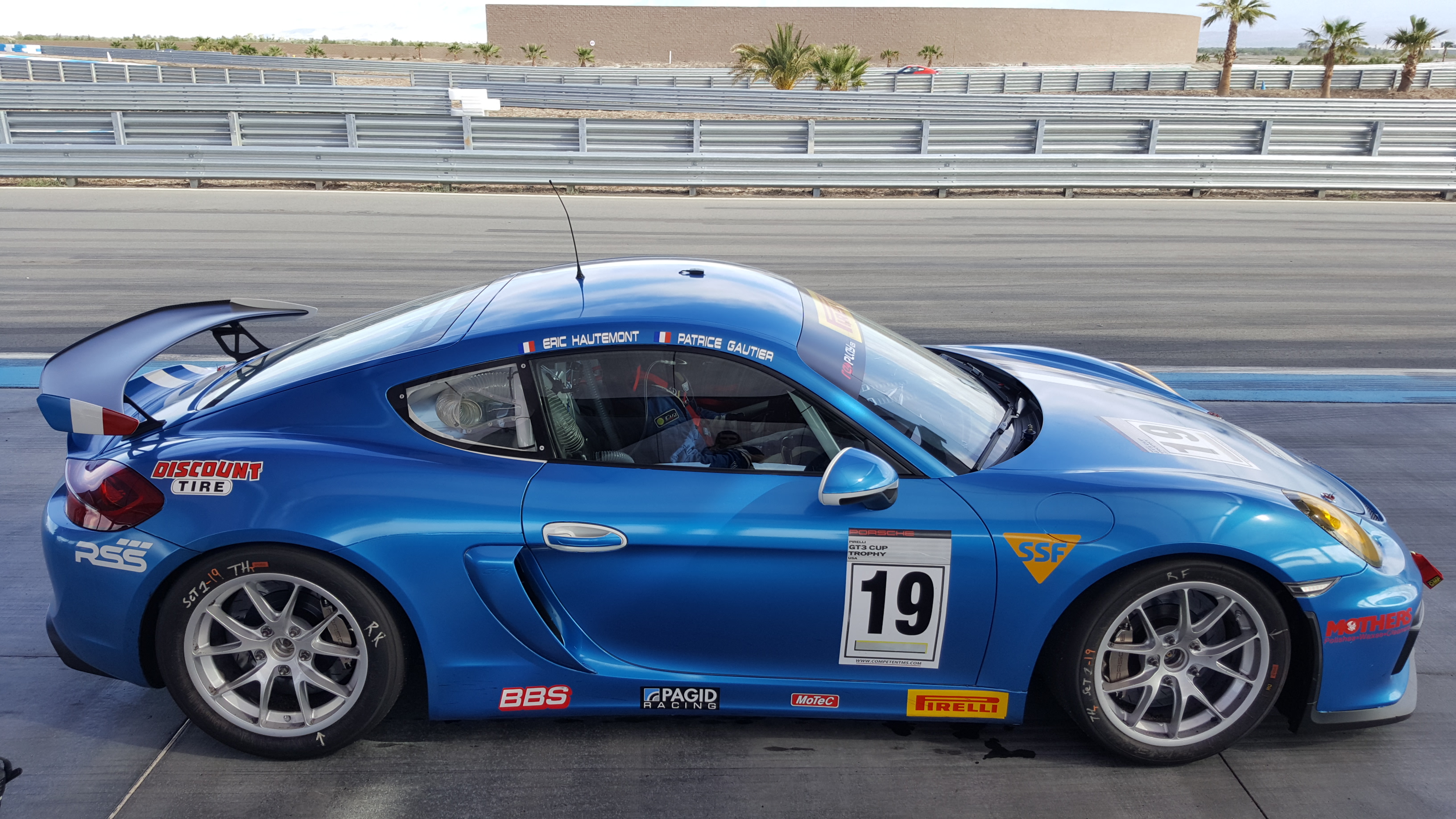 PORSCHE CERAMIC COMPOSITE BRAKE (PCCB)
The optional Porsche Ceramic Composite Brake (PCCB) is a proven motorsport solution. Boasting particularly large brake disc diameters of 410 mm at the front and 390 mm at the rear, it offers an even more formidable braking performance. The use of six-piston aluminium monobloc fixed brake calipers on the front axle and four-piston units at the rear ensures extremely high brake forces, which, crucially, are exceptionally consistent. PCCB enables shorter braking distances in even the toughest road and race conditions. Another key advantage of the ceramic braking system is its extremely low weight. The brake discs are approximately 50 % lighter than standard discs of similar design and size. As well as enhancing performance and fuel economy, this also represents a major reduction in unsprung and rotating masses. The consequence of this is better roadholding and increased comfort, particularly on uneven roads. Alongside the regular servicing work performed within the standard service intervals, additional servicing should be performed if used on the racetrack.
US BASED COMPETITIVE SERIES

Pirelli Cup Trophy Series from Competent Motorsport
Pirelli Cup Trophy Series in 2016, features three Porsche GT3 Cup car Classes: The Diamond Class (991 GT3 Cup- 2014-2016), the Platinum Class (997.2 GT3 Cup- 2010-2013), and the Silver Class (Cayman GT4 Cup – 2016).…LEARN MORE
Porsche Club of America Club Racing
The basic structure of Club Racing involves a national PCA Club Racing Committee, the PCA National Office, and the Regions. The PCA Club Racing Committee maintains the Club Racing Rule Book, determines the Licensing Procedures, and oversees all the planning of a Club Race. One or several Regions organize each Race, and have full financial responsibility for their Race. In addition, each licensed racer receives Club Racing's official bimonthly publication called the Club Racing News. The Club Racing Program is also grateful for the tremendous support of our National Sponsors.…LEARN MORE