Todd Hetherington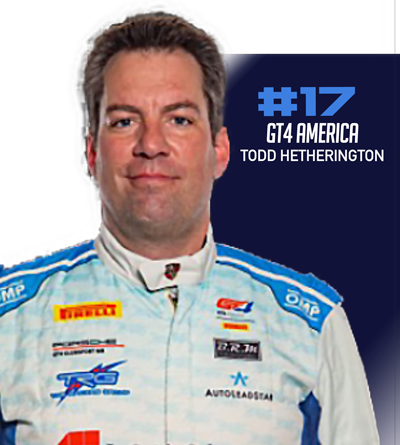 HOMETOWN:

Oconomowoc, WI
Twitter:
@
SERIES:

Pirelli SRO GT4 America
CAR:

#17 2019 Porsche Cayman GT4 Clubsport
LIVERY:
SPONSORS:

LaSalle Solutions | Silver State Medical Consultants | W Holdings, LLC | LienStar | Westpark Capital
BIO:

Todd Hetherington fell in love with Porsches as a boy when his father's friend let him sit in his 1984 Porsche 944 Turbo. He thought it was the coolest thing ever and vowed to own one. A few years later, after entrepreneurial success, he bought his first Porsche, a 2004 911 Carrera S, and rolled it onto the track at Road America. Then came a few more Porsches as Todd explored the club circuit. He was bitten with the race bug, but as a CEO, husband and father, his top priority was to support his young family in their endeavors.

His kids are a little older now, and Todd had the incredible opportunity to revisit his dream in August, 2021 at Road America. His daughter, Brooke, started a conversation with Violet and Steve Robb of LaSalle Solutions, sponsors of The Racers Group. In a few moments, he was introduced to Kevin Buckler, CEO, and his future teammates. "It was like injecting a racing needle right into my arm," he recalls. With a "go get it, Dad," from his son, Tanner, and equal support from the rest of the family, Todd joined TRG's racing family.

Todd brings his club racing experience to Team TRG; as well as a lifetime of team sports experience as a downhill ski racer, coach, and ski racing parent. His goal is to be the ultimate racing teammate by supporting and enhancing his fellow drivers' performances, especially his co-driver, Dr. Jim Rappaport.