Sportscar racing gathers the highest profile of individuals looking to leverage B2B and networking opportunities in one of the most affluent environments in professional entertainment.

BUILDING A BUSINESS CASE FOR MOTORSPORT SPONSORSHIP & EXPERIENTIAL MARKETING
With luxury offerings such as Executive hospitality, trackside team access, exhilarating high-speed driving experiences, and exclusive high-end wine dinners, deals are no longer made in the boardroom. The Racers Group creates lifestyle experiences designed to captivate your audience, making it the networking tool of choice for the business elite.
The Racers Group will show you how to incorporate highly effective VIP and "bucket list" experiences into your marketing mix, building an internal business case for leveraging sportscar racing sponsorship and field activation for lead generation, Account-Based Marketing (ABM) and even employee engagement.
Motorsports is Undergoing Transformation
In the past, motorsports ROI was largely represented as a form of client entertainment and paid media (200mph billboards) where metrics were measured in fuzzy ad impressions. Those days are gone. Sponsors today focus on tying the investment back to ROI, and revenue, as their very livelihood (funding) depends upon it. TRG has hired seasoned brand marketers onto their payroll to "talk the language" of measurable marketing and more importantly – design activation that generates business results for sponsors and clients.

ENGAGING CORPORATE EVENTS
TRG transforms routine corporate events into memorable experiences.

Leverage the exclusive brands, our racecars, drivers, hospitality, and simulators to spice up your conferences, seminars, press events, team building exercises, product launches, award ceremonies, and executive retreats, just to name a few.


Building a Motorsports Marketing Strategy using TRG
Review your company's current year business plan as well as its strategic 3 or 5-year plan to identify key Management-by-Objective (MBO) themes.
Schedule some ideation time to brainstorm how a motorsports sponsorship and activation strategy can help deliver on those corporate objectives.
Identify stakeholder groups: for each corporate objective, there will be stakeholders that are responsible for delivering on them. Typically, there are four stakeholder groups that are obvious places to start

(i) Marketing is responsible for generating demand and converting demand into quality leads,
(ii) Sales is responsible for converting Leads into Opportunities, and Opportunities into closed revenue,
(iii) HR is responsible for attracting, developing and retaining top talent as well as overall employee engagement, and
(iv) Corporate Social Responsibility is responsible for company initiatives relating to environmental and social well-being (similar functions exist for community outreach tied to giving to charity and nonprofit initiatives).
A well-crafted business case will illustrate how the investment in a motorsports sponsorship will help each stakeholder group reach its business goals for which they are "on the hook."
Identify the decision makers/influencers:
For each of the stakeholder groups, identify who owns the budget and decision-making authority.
For each individual on the list, assess whether you have a positive relationship or whether you need to invest time to build one.
Find out what it is important to them and what makes them tick as you are going to need to convince them to make a behavioral change from what they've been doing.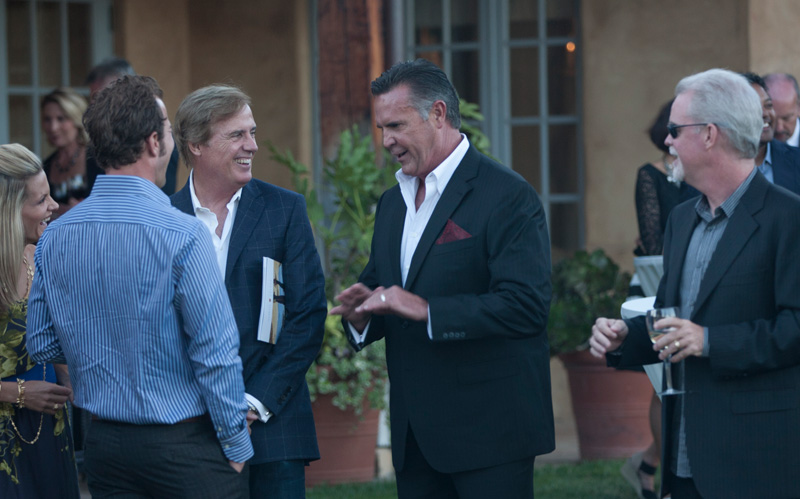 Understand the baseline:
For each stakeholder group, identify their current state of play…
programs they are currently executing
program budgets
metrics
historical performance
Specifically, if HR invests in entertaining top recruits or rewarding employee engagement, find out how the program works, the funding behind it, and how success is measured. Similarly, if Marketing invests in events or Sales invests in client entertainment, find out what they are doing, budgets, etc. as you will need to contrast what they are doing today (tactics, metrics) with your proposed motorsport marketing program (tactics, forecasted metrics)
Quantify the WIIFM ("what's in it for me") benefits for each stakeholder in easy-to-understand language. Busy executives just need the bottom line. Use creative mockups, add videos, and visuals to help stakeholders visualize what the at-track and in-market experiences would look like and to make an emotive connection.
Also, be clear about the role of each experience and the KPIs you intend to use to measure performance. By aligning your motorsports proposal to corporate objectives, stakeholder motivations (WIIFM), and applying KPIs to track impact to revenue, you increase your chances of gaining approval for a pilot program. Again, people are visual so use graphics mockups, live props, or race team provided video footage to illustrate how the experience would unfold.
Pitch Your Plan
Involve stakeholders in the process by working one on one with them to give a sense of collaboration and engagement. This enables you to detect sales objections early and develop a response before pitching to a broader audience. It also enables you to build consensus along the way. Of key importance will be cooperation from the stakeholder groups to record the assisted-attribution data necessary to track the effectiveness of each VIP/bucket list event and the cumulative impact on reaching business objectives.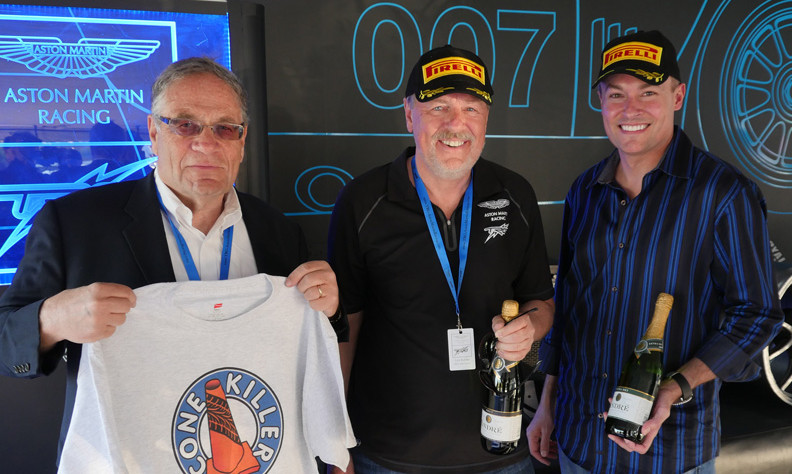 Be prepared to internally sell a pilot program (a few VIP events or sponsored race weekends) as a form of "show & tell" to help decision makers and their staff become comfortable with how experiential marketing would work at scale. Once the executive decision makers experience an event first-hand and observe the sales networking, executive conversations, relationship building, other components working together it should become very clear that this is far more than high-speed billboards.
WHY VIP EXPERIENCES ARE ESSENTIAL FOR ACCOUNT-BASED MARKETING

TRG's activation assets include on- and off-the-racetrack experiences with high-end luxury race cars. Over 20 years of building relationships with business partners have yielded dozens of valuable alliances formed from connections made at a TRG event.

If you are a B2B marketer, you have been on a roller coaster for the past decade in search of the "secret sauce formula" for attracting high-quality leads to feed the sales pipeline. Like changing fashion trends, MarTech startups like to tell us that our current approach is broken so they can introduce their new tool as the solution to better leads. So now we turn our short attention span to ABM.

The End of Outbound Marketing Was Over-Hyped
In the late 2000's, the inbound marketing movement (led by Hubspot's Mike Volpe) declared "outbound marketing is dead" and inbound marketing was the methodology of choice for smart marketers to build a quality lead pipeline. Following Mike's declaration was an onslaught of content marketing books, workshops, and speakers declaring that "marketers are now storytellers" and that marketing departments should be structured like publishers to support lead nurturing, SEO, etc.
While there is no doubt that inbound marketing and content have a role to play in B2B marketing, marketers that abandoned their outbound marketing efforts soon realized that putting "all their eggs in the inbound basket" was a mistake.
Jon Miller (former Marketo founder and then Engagio CEO) surprised many on a recent ABM webinar when he described his own lead generation revelation while CEO of Marketo. Jon shared that while inbound marketing worked well for lower-value, shorter sales cycle leads it did not work for high-value, longer sales cycle enterprise accounts. Thus, Marketo turned to an outbound strategy — namely, ABM to build relationships and close enterprise accounts. Jon went on to say that VIP experiences are an essential part of a successful ABM strategy to engage executive decision makers. Jon – we couldn't agree more.
How VIP Experiences Fit Into an Account Based Marketing Strategy

Marketers that we talk to seem to think that ABM is largely an exercise in IP-targeted personalization (website, digital display ads). While these are important tactics within an ABM strategy, they are only a small part of a much bigger picture. ABM blends both inbound and outbound marketing techniques and some of the most powerful include "old school" techniques such as personalized correspondence (direct mail) and intimate executive gatherings to engage high-level decision makers.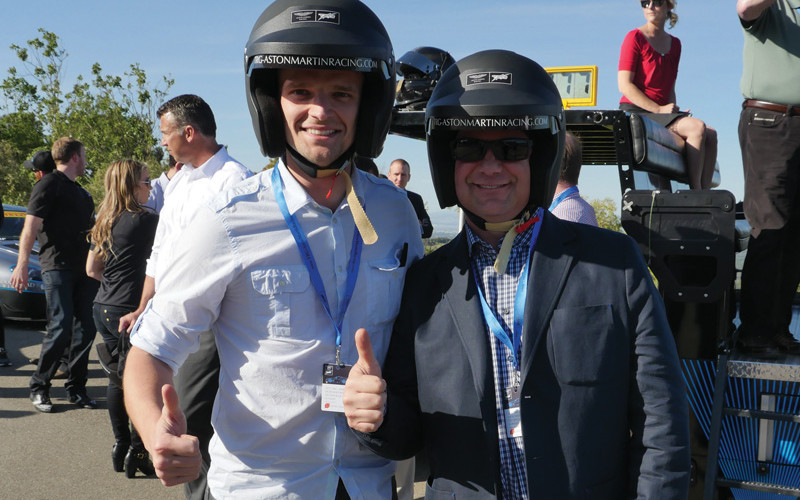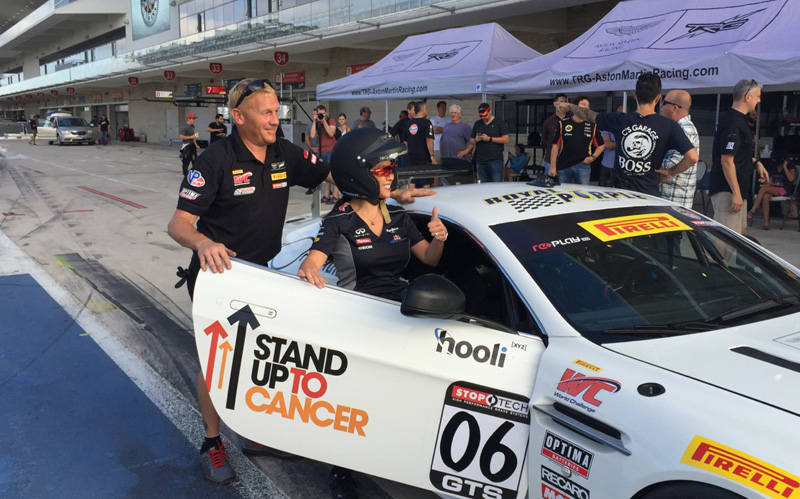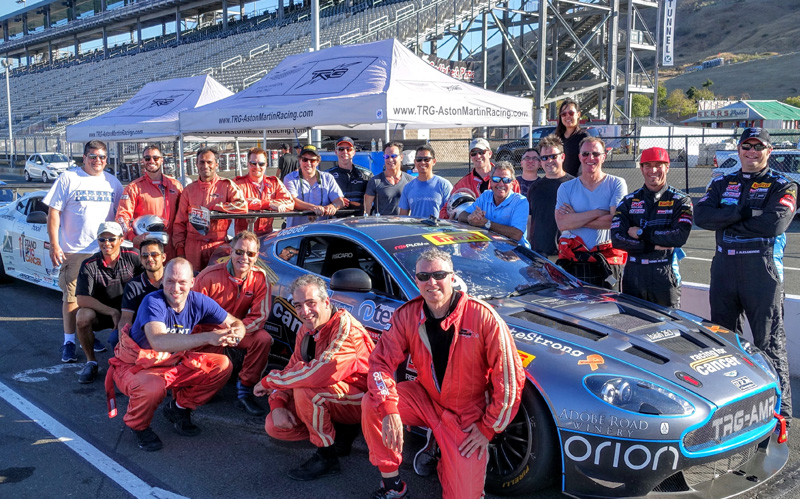 Since the goal of ABM is to support account-based selling efforts a key component must be connecting salespeople to executive decision makers. While digital tactics are effective early in the buying cycle, creating deeper engagement with executive level decision makers requires more than clever digital ads and intriguing white papers — it requires relationship building.
Trust is a prerequisite for closing a sale and trust is a process — not an event.

When competing for the attention of executive decision makers, an invitation to dinner, a golf outing or sporting event simply isn't compelling enough to justify their time as these are readily obtainable/accessible. To capture their attention, you need to offer a "bucket list" experience available to an exclusive few.
This 2-minute sizzle reel highlights some examples of VIP experiences created for brands by Aston Martin Racing North America.
Whereas high attendance events are appropriate for engaging early stage prospects, narrowly attended VIP/bucket list experiences are recommended for later-stage Opportunities. The fact is that unless the executive decision makers and budget owners are engaged — your sales team is unlikely to close the sale. Securing the attention span of these executive decision makers is incredibly difficult and that's why your event strategy MUST evolve beyond overused golf outings, dinners, and sporting events. Ask yourself this: how many executives making $300K (or more) struggle to golf, dine, and attend sporting events? The TRG VIP experience typically is not available to the general public…it is truly a bucket list experience that appeals to a broad audience.
Use Case Example: Small Group Executive Gatherings

One of the use cases where we see a lot of brands struggle is to attract executive decision makers to small group dialog such as a C-level breakfast, executive round tables, etc. An approach we've tested at The Racers Group to support Tech companies is to offer a bucket list VIP experience as an incentive for attendance. For instance, a format we've used is as follows: executive round table/briefing (9am to 11am), catered lunch (11:30am – 1pm), VIP race car driving experience (1pm to 4pm), and private wine reception (4pm to 6pm).
Another example includes private wine dinners with executives where high touch interaction with racing celebrities, race car displays, and luxury experiences can add intrigue. In several instances, C-level executives have hosted private dinners at their home and we've set up an Aston Martin Racing display out front – complete with race cars displayed in their driveway.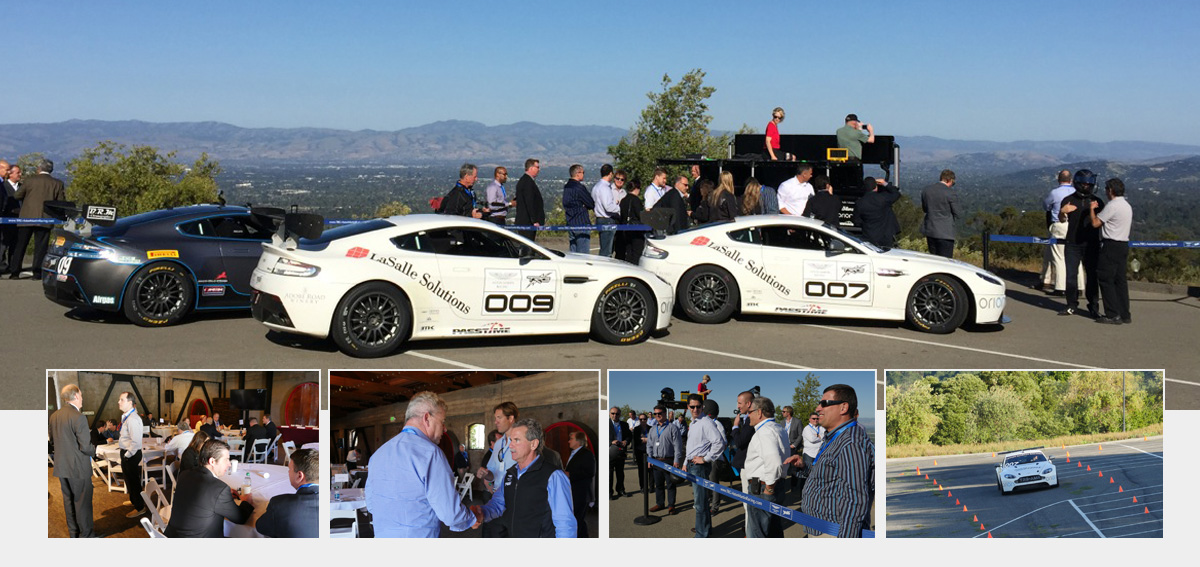 Stealing the Show: Trade Shows and Conferences

---
Another area where marketers face a steep challenge is attracting and engaging executive decision makers to trade shows, conferences and large-audience events. With big spenders like Marc Benioff hiring rock bands for Dreamforce conferences, how do the rest of us compete?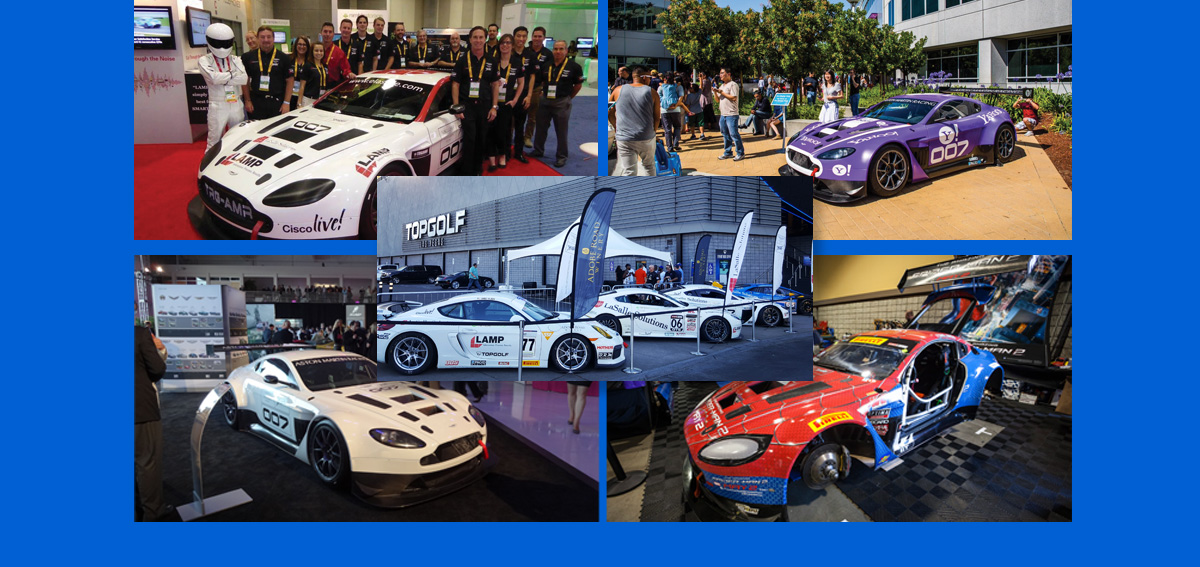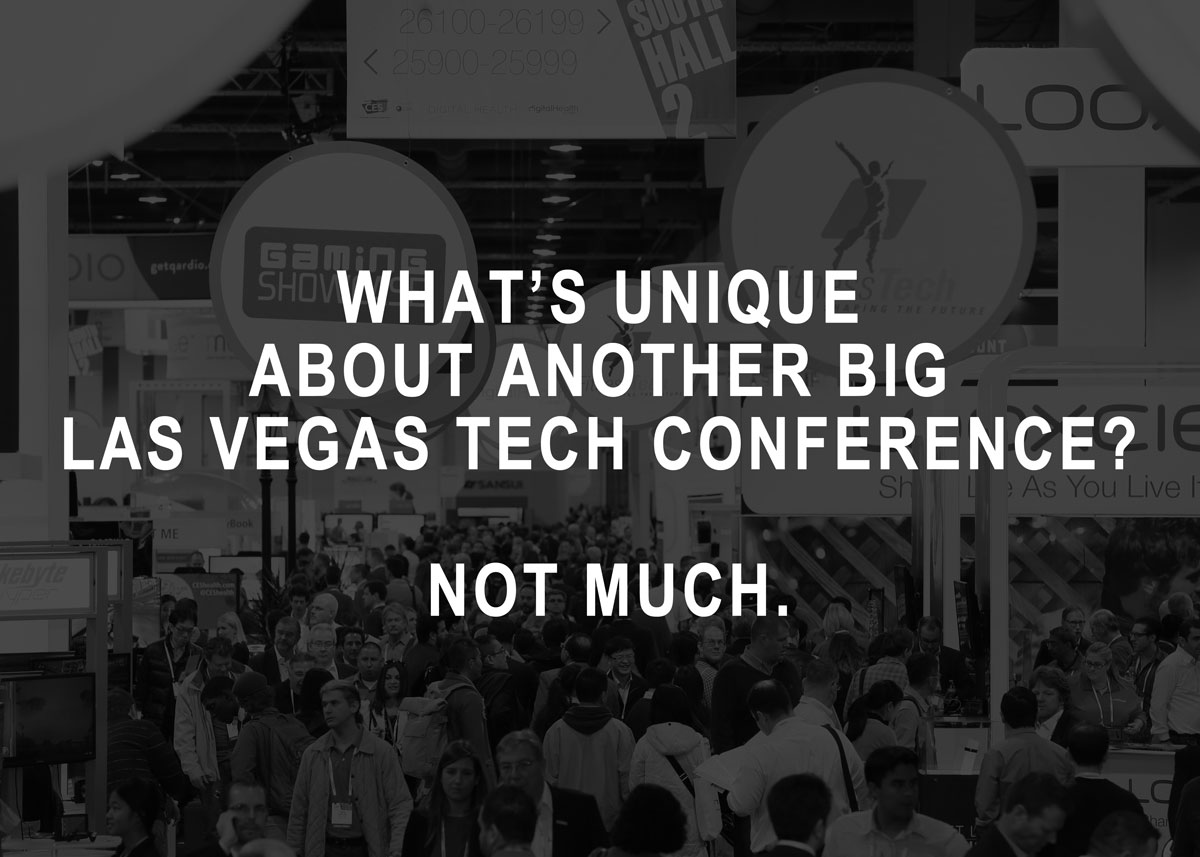 So how do important brands actually get busy executives to attend the conferences and take meetings with brand sales teams instead of sending their lower-level staff? The answer lies in offering the executives a unique VIP experience that they cannot buy/obtain to create a tipping point of curiosity. This is essential as part of an ABM strategy.

We designed a bucket list VIP experience for clients to consider that include renting the a local sports car track for their respective conference dates. The strategy included three components:
(i) wrapping Aston Martin race cars with messaging that reinforced their conference theme (e.g. speed, business agility),
(ii) race cars drivers interacting on the show floor, and
(iii) pro drivers in six Aston Martin Vantage GT4 race cars waiting at the Las Vegas Motor Speedway for high-speed VIP driving experiences.
As a result, clients are offered an opportunity to integrate a premium brand (Aston Martin, Porsche, & Lamborghini), reinforce their brand messaging (speed, agility), create buzz on the conference floor (and with media/influencers), and deliver private experiences for executive decision makers at target ABM accounts.
How it Works:
Rewarding Prospect Behavior with VIP Access
Target ABM customer/prospect executives would receive a VIP backstage pass (shaped in a silhouette of the #007 Aston Martin race car) for a private shuttle ride from the conference center to the speedway where a wrapped/branded Aston Martin race car awaits. The VIP guest could experience a high speed lap on the road course and access an optional driving lap with HD video capture as a keepsake.
Activation: Clients that signed up for actual product trials could then have the Aston Martin race cars displayed on their corporate campus and host a "Top Gear" style autocross in their parking lot for employees or key customers — all captured via photos, video and social media.
This is just one of many concepts that can be used to create ABM sales momentum in the latter stages of a buying cycle to engage executive decision makers.

If your ABM strategy does not include VIP/bucket list experiences to engage executive Leads and Opportunities, perhaps it should.

WHY VIP EXPERIENCES ARE KEY TO CLOSING B2B SALES
Each race weekend, TRG designs a focused 4-day program of private wine dinners, VIP race hospitality, networking receptions, structured executive introductions, and optional race car driving experiences. Season after season TRG delivers to companies representing wealth management, property & casualty insurance, SaaS software, cloud technology, and other sectors. These firms have seen the benefits of VIP experiences as well as the connections and business opportunities forged in a setting that is simply impossible to duplicate via digital touchpoints such as digital advertising, email nurturing, social media, etc.

The Missing Component for Converting CRM Opportunities to Sales
We were talking with one of the VIP guests at the season opening race whose credentials include successful executive marketing roles with Dell, Rackspace, and other technology firms. He is a car guy and was asking how a technology company might "go beyond stickers on the car" to connect motorsports VIP experiences to revenue. We began to share some simple truths that Tech CMOs know to be true about long lead-time, enterprise sales:
Digital marketing is effective for reaching lower-level members of the buying committee who gather information, evaluate vendor alternatives, and make a recommendation to senior executives. However, it is less effective in engaging senior level executives (ask yourself this: how many C-level exec's are clicking through PPC ads at 10pm).Lead nurture databases are also typically comprised of the Managers or Directors that represent the "information gatherers" but often lack the executive decision makers that control the budget decision (ask yourself how many C-level executives opt-in to email lists and content offers).
Outbound appointment tactics such as invitations to golf outings, dinners and sports events typically fail to engage executive decision makers as they have been used by vendor sales reps for decades (ask yourself how many executives making $500K+ struggle to eat/golf wherever they want)
So how do modern marketing and sales organization build relationships with executive decision makers to convert CRM Opportunities into closed sales?
Enter "bucket list" VIP experiences.

Cutting Through the Noise to Engage Executive Decision Makers

---
Despite spending handsomely on marketing technology many companies are still struggling to convert Opportunities into closed revenue because their digital obsession has crowded out the human factor.
At the end of the day, people approve purchase orders and personal relationships dictate who wins the business.

We shared with our executive guests that VIP motorsports experiences, and in particular sportscar racing, are powerful because they have several advantages over golfing, dinners, and sports tickets for engaging executive decision makers: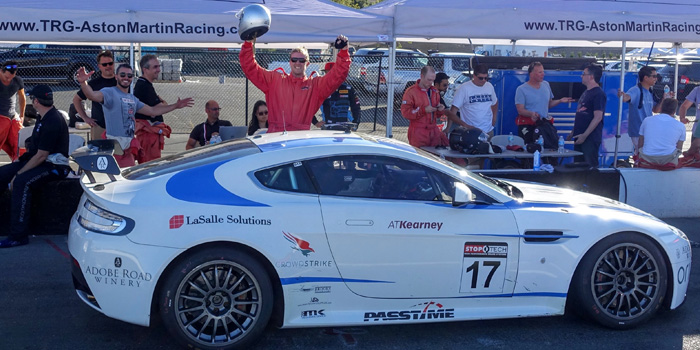 Participant vs. Spectator
---
Sportscar racing put VIPs in the middle of the action by integrating them with the actual race team (meals, strategy sessions, car setup, pit lane), putting them behind the wheel (driving race cars on private tracks), and enabling unique in-market activation (driver/car appearances, driving experiences on corporate campuses).
Sensory experience
---
Unlike a dinner meeting or whispering on the fairway at the US Open, sportscar racing engages the senses with high-impact sights and sounds and invites connection at a primal level. There is no equal to the sensory experience of driving a race car at 150mph or feeling the visceral rush of 30 exotic super cars rushing past you on a race track.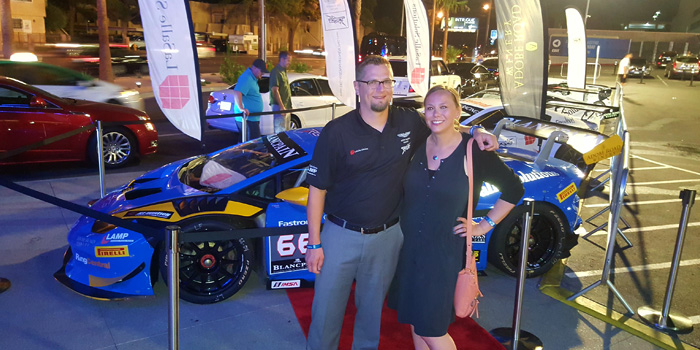 Lifestyle aspiration
---
Sportscar racing features exotic cars that successful people aspire to own. Luxury brands such as Porsche, Aston Martin, Bentley, Ferrari, McLaren, and Lamborghini represent the very best in automotive technology, design and lifestyle — thus, people are drawn to them and they add to the exclusiveness of the VIP experience.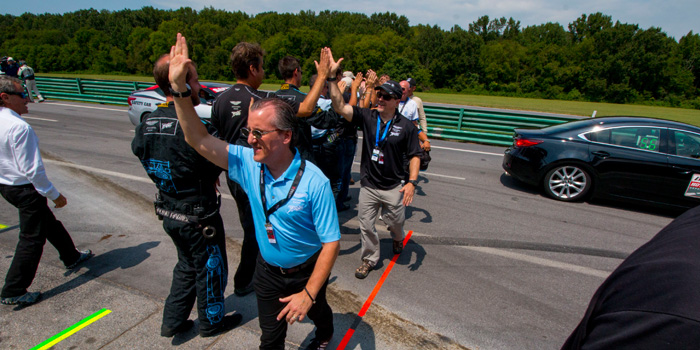 Networking reach
---
Unlike a dinner or sports luxury box, sportscar racing offers unparalleled networking. Whereas you wouldn't sit down at a stranger's dinner table in a restaurant or walk into a stranger's luxury box and begin handing out business cards, you can access multiple business networks at track and in-market.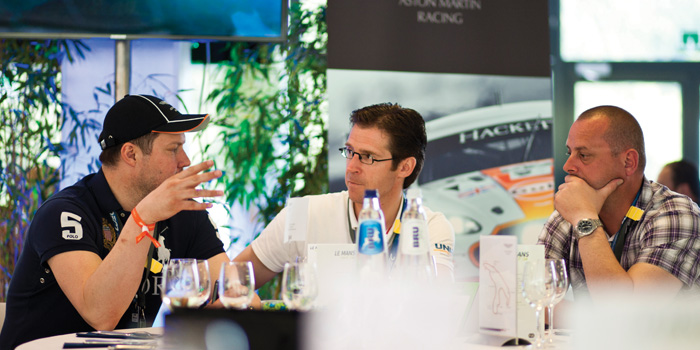 Intimate business setting
---
Unlike large sporting events and even NASCAR races, the down time between practice, qualifying, and the races results in lots of time for dining, drinks, and conversations in private meeting rooms, luxury RVs, and VIP hospitality tents. Real business conversations and deals get done.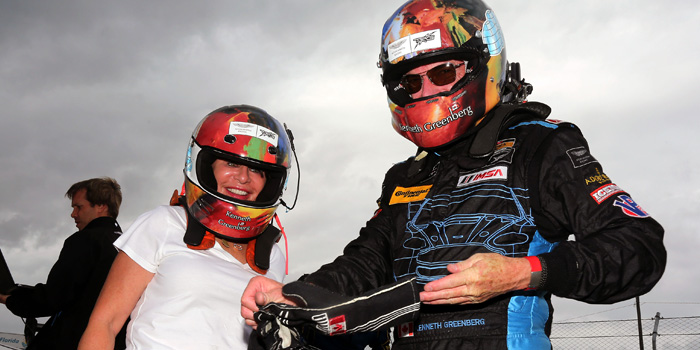 Spouse-friendly setting
---
Unlike sports stadiums or large motorsport events (NASCAR), sportscar racing often takes place in "destination" settings (Monterey, Sonoma, St. Petersburg) and offers a wide range of recreational activities, including luxury hotels with spas and nearby vineyard tours. The track side experience is also a more intimate atmosphere where wives can relax.
HOW FORWARD-THINKING COMPANIES USE TRACK & RACE DAY EXPERIENCES
Best practice use of VIP motorsport experiences

go beyond "stickers on a car" to drive engagement at each stage of the customer journey to support sales pipeline and revenue goals. Consider bringing your best clients, partners, or prospects to some of the most exhilarating road race tracks in North America. Spend a full day of instruction with TRG's expert staff and drivers complete with: technical data, photos, and videos for each participant. Itís an experience you and your guests will never forget.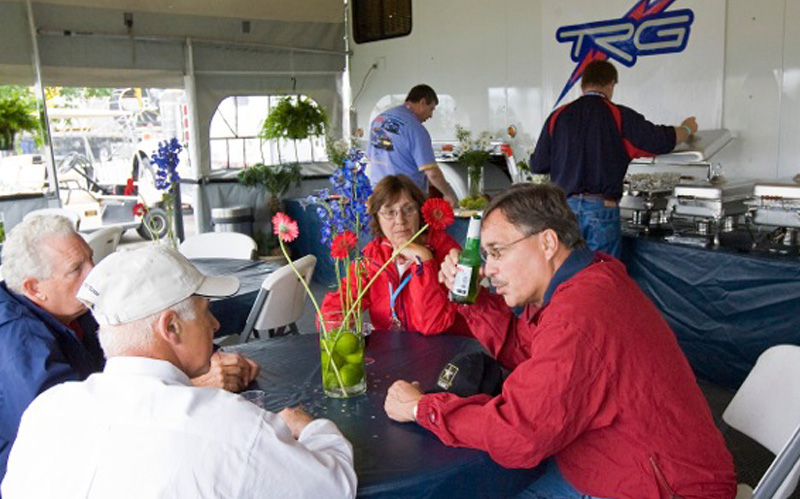 Customer acquisition
Securing valuable "face time" with executive decision makers for high-value Opportunities, especially those that have "stalled" (not responding to sales person). Also effective as part of ABM strategy and MDF initiatives to generate new leads or close pending Opportunities with channel partners.
---
Customer retention
Relationship building with high-value accounts prior to contract renewal to avoid churn. This is critical for cloud/hosting, SaaS, communications, professional services, and related subscriber business models (CLTV).
---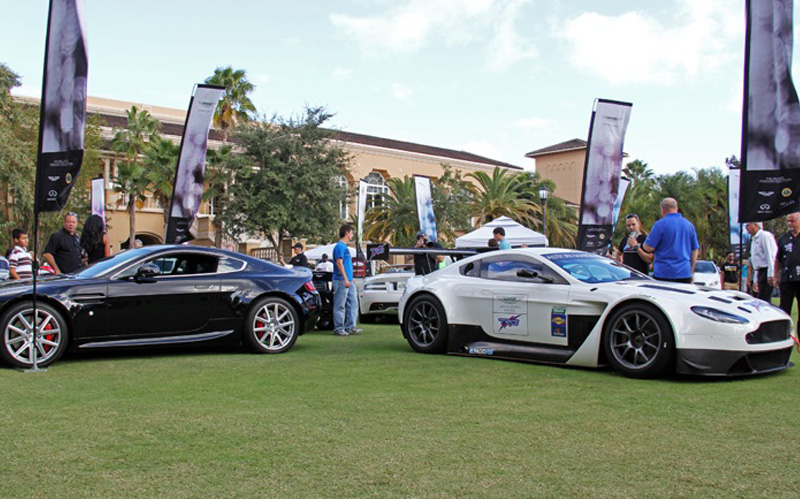 Sales incentives
Rewarding direct and indirect sales channels for reaching sales objectives (driving experiences, team/car appearances, etc.)
---
Events/Trade Shows
Reward event attendees or key accounts that take meetings during trade shows with a VIP driving experience at-show in a race car ("Top Gear" autocross in parking lot, nearby on-track experience, show floor demo, etc.)
---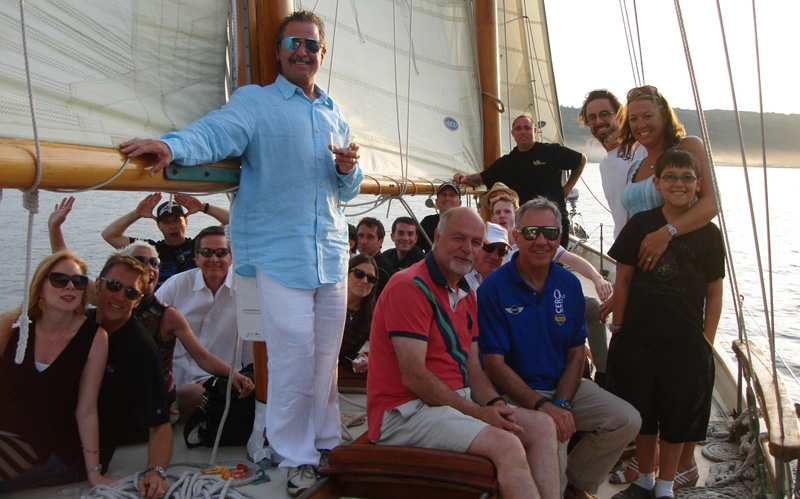 Recruiting
Entertainment platform for attracting new channel partners or top talent (HR).
---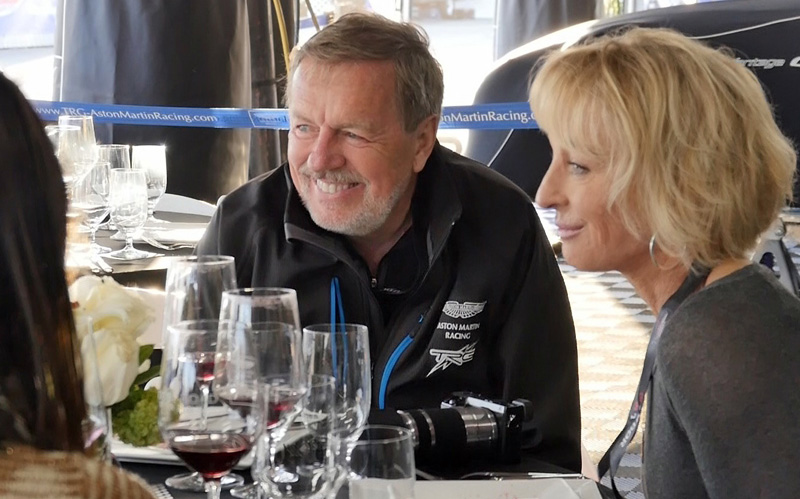 Employee engagement
Rewarding employees who exhibit desired behaviors or refer talent.
---
And perhaps the best part is the assisted attribution can be tracked via CRM.
A Few Success Stories
While we have a lot of work to do to continuously perfect our field/experiential marketing efforts, we do have a few data points from recent race seasons that suggests our approach is working for major brands.
Case Studies: Field / Experiential Marketing: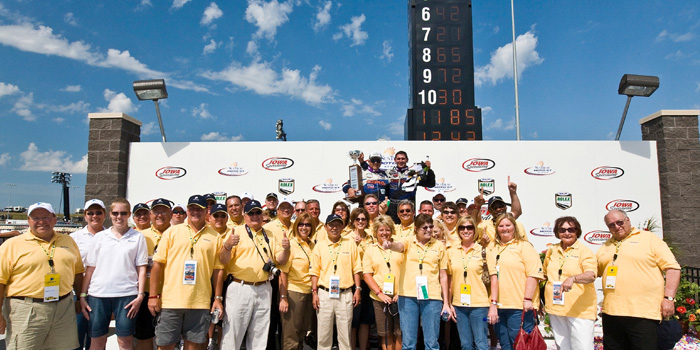 A Fortune 500 wealth management company shared with us that they generated over $50 million in new business and a pipeline approaching $300 million after a single race weekend program with the TRG's Aston Martin Team team in 2015. It represented a 400% ROI and they are doubling their 2016 investment in VIP experiences.
An LED lighting company was introduced to a single automotive dealership network ($4B in revenue) to retrofit their dealership and parking lot lighting – a sales opportunity representing a 500% ROI on their first year sponsorship.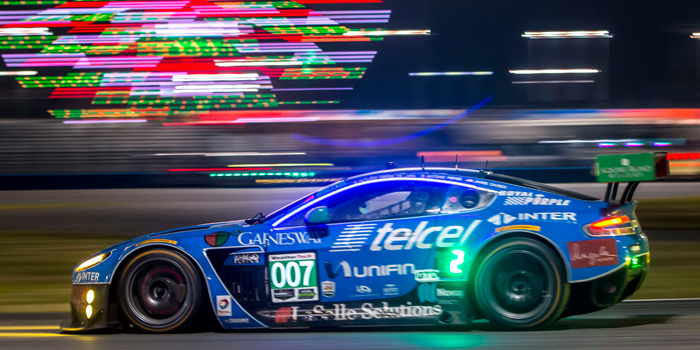 The TRG's Aston Martin Team team has struck a business relationship with Mexican billionaire Carlos Slim to help US companies expand their revenue opportunities in Mexico and Latin America by associating with the Aston Martin Racing program.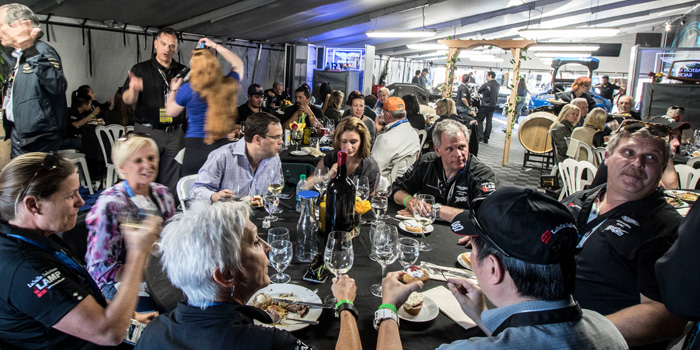 If your brand is looking for out-of-the-box ways to engage executive decision makers, consider re-introducing the human factor to your digital marketing and use bucket list/VIP experiences to engage your best buyers and customers.
HOW VENTURE CAPITAL AND PROFESSIONAL CORPORATIONS CAN CLOSE MORE DEALS

If you are a principal at a venture capital or private equity firm you've likely noticed lately that the playing field has gotten crowded — REAL crowded.
You used to be able to track the "usual suspects" (competitor firms) when competing to attract new portfolio companies but now you are losing deals to unknown funding sources. Attracting and retaining top talent was somewhat routine. You even had a reliable process for attracting new money into your funds. So what happened?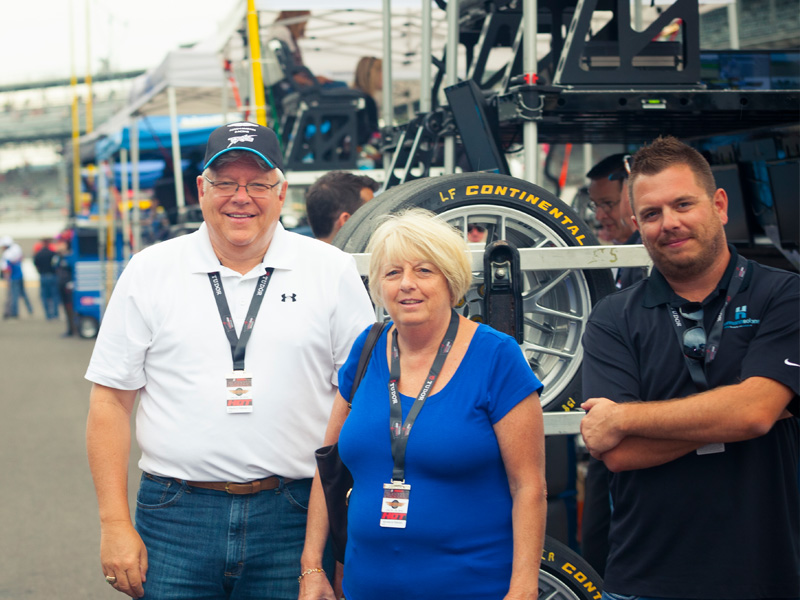 ---
The Balance of Power is Shifting
Thanks to a lack of willingness to normalize interest rates and an overheated stock market, the smart money is now searching for new places to invest. Not only are more private funds popping up, but more angel investors are operating in the background too — happy to remain "on the down low" out of conspicuous eye of the big dogs. Ditto for companies seeking funding — they have more choices than ever for funding and have more leverage in shaping their terms. Life has changed considerably in the last few years for fund managers and partners.
In our conversations with VC firms the principals share that (like most), they have three primary goals:
(i) attract new money,
(ii) add new/quality companies to their portfolio, and
(iii) grow the value of their existing portfolio companies.
As a smaller VC fund, they shared how all three had become challenging.
Many firms lack a truly unique way to engage entrepreneurs and investors to cut through the clutter and accelerate their deal pipeline. Enter VIP experiences.

---
Successful People Desire Exclusivity
We've been fortunate to work with multiple private banks (with Tech practices) and private wealth management companies over the past 18 months to construct VIP experiences that have helped them accomplish all three goals outlined above.
The way to engage successful people is to offer them something they cannot easily obtain. Exclusivity fuels intrigue and thus a willingness to engage. Successful people are drawn to being able to access privileges designed for the elite few (think American Express Centurion card).
Nobody remembers the score of the ball game they attended at the last vendor event, but people do remember driving an Aston Martin race car on a professional race circuit followed by private wine tastings, business networking, and a custom menu dinner experience with the race team. You are not selling vacuum cleaners whereby two tickets to a 49ers game is going to impress — so go big and play to win.
---
Ideas For Getting Started
If you are a VC or PE firm seeking fresh ideas to use in recruiting/entertaining new money investors or new portfolio companies, explore our network of affiliates and the activations they have utilized (here) to strengthen relationships with both current and prospective clients.
Imagine delivering a Porsche, an Aston Martin, or Lamborghini race car to the corporate office of your next portfolio company prospect and hosting a "Top Gear" style fast lap competition for the employees in their parking lot.
The benefits of a VIP experience partnership with The Racers Group extends to not just the VC or PE firm – but also growing their portfolio companies. Your portfolio companies gain access to a menu of VIP experiences to close more deals and recruit/retain top talent: 20+ VIP race hospitality weekends (IMSA, PWC series), private track days in 40+ markets in the US & Canada, private team wine dinners and business networking, trade show appearances & on-site driving experiences, "Top Gear" style fast lap competitions in-market, sportscar rallies and celebrity VIP events, and more. Everything is customized to support the sales & marketing efforts of the portfolio companies.
LUXURY LIFESTYLE DINING AND EVENTS WITH ADOBE ROAD WINERY

TRG's first class hospitality is enhanced through a symbiotic relationship with its sister company Adobe Road Winery. Adobe Road Winery, based in Sonoma County is a highly acclaimed small-lot boutique winery, producing memorable wines from some of the most revered vineyards in California. Since its commercial launch in 2000, Adobe Road has played an integral role in the marketing and promotion of The Racers Group's relationship building and hospitality events. Similar to a world-class racing team, operating an award winning winery requires preparation, passion and dedication.
Adobe Road hosts winemaker's dinners and tasting events in conjunction with most race events, and in other key markets around the United States. From years of relationship building, The Racers Group and Adobe Road have special access at the finest restaurants and event venues on the North American racing circuit, like quiet bistros in Carmel, brash steakhouses in Austin and glamorous seafood restaurants in South Beach. The Racers Group's partners benefit from these relationships, gaining access to some of the most unique venues in the country while creating excellent memories for their clients and guests.
---
Let us show you how to get started.