Dr. Jim Rappaport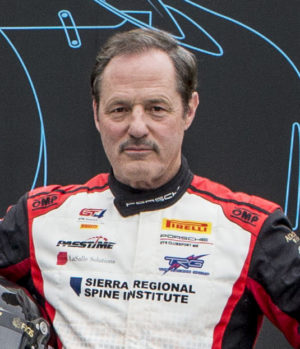 HOMETOWN:

California
Twitter:
@
SERIES:

Pirelli World Challenge GT4 America Sprint X
CAR:

#17 2019 Porsche Cayman GT4 Clubsport
LIVERY:
SPONSORS:

LaSalle Solutions | BRM Chronographes | Falcon by AutoLeadStar | FASTLIFE.TV | Rebounderz Indoor Trampoline Park | Kill Kapture | Allamance Kafee Werks
BIO:

Dr. Rappaport's passion for motorsports racing comes from his appreciation of the beauty of the cars, fascination with the technology and the challenge of perfecting every detail to win.
He began racing four short years ago with the Sports Car Club of America, where he met his now coach and mentor, Robert Orcutt, and was fortunate to win his first race in GT2 in a Porsche Cayman. He won his next SCCA race also, and that was all it took to know this was something he was meant to do.

Dr. Jim has approached racing with the same dedication, focus and hard work that has made him such a sought after Spinal surgeon for the past 35 years. The support and expertise of The Racers Group team last year led to a 3rd place finish in the Pirelli World Challenge SRO GT4 America class. The season ended on a high note with a first place finish at the final race in Las Vegas Motor Speedway. Jim and his co-driver Derek DeBoer are looking to build on that success into the new race season in their #17 TRG / FASTLIFE.TV/ Sierra Spine Institute / BRM / 2019 Porsche Cayman GT4 Clubsport.