The Huracán LP620-2 Super Trofeo

is based on the Lamborghini Huracán LP610-4. Even though it bares the same iconic silhouette as the street-legal version, this car is a precision instrument built specifically for the track. Weighing 335 pounds less and boasting 620 horsepower from its naturally aspirated 5.2L V10 engine making this car one of the fastest GT cars on the track today.

TECHNICAL SPECIFICATIONS
Complete aero kit with quick fixing (DZUST)
Front: S teel 380×35 mm / Rear: Steel 355×32 mm
Double wishbones with rigid bushing
Front: 6 pot monoblock, Rear: 4 pot monoblock
Racing ABS (12 position) / TC (9 position) / Brake bias
V10 IDS (NO MPI), Air Intake by BMC
620 CV (456 kW) @ 8,250 RPM
570 Nm (419 lbft) @ 6,500 RPM
System MOTEC M182 (9 position Traction Control)
6-speed sequential gearbox electrically actuated by Marelli
3 discs racing clutch , Light weight flywheel
New Fully integrated Roll Cage (in compliance with FIA specs)
FRAME CONSTRUCTION
The frame is a hybrid carbon/aluminum construction with modified geometries to house an improved radiator up front and better accommodate the racing gearbox at the rear, which also provides better aerodynamics. The dry weight of the Huracán Super Trofeo is 1,270 kg, with a weight distribution of 42/58%.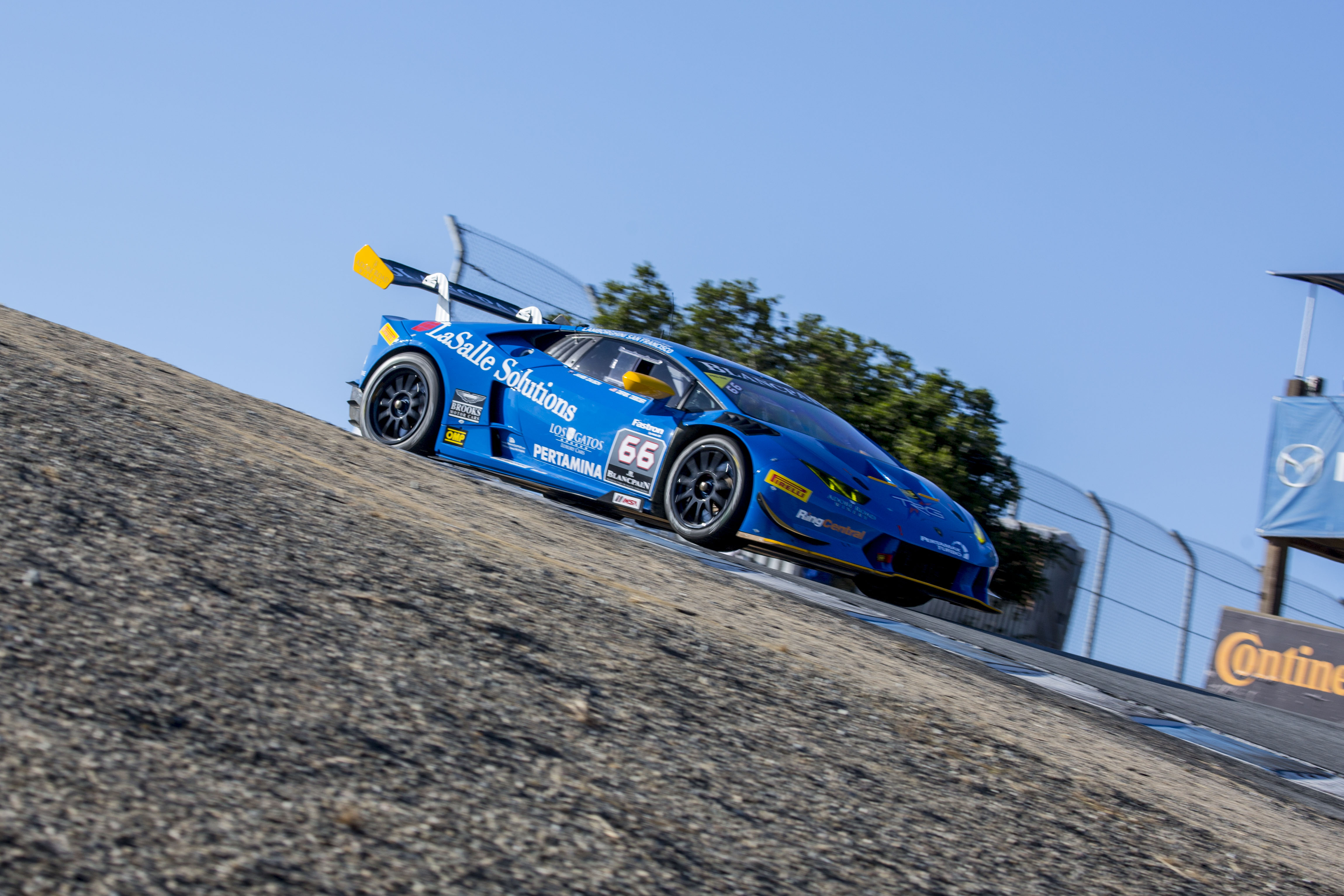 SIGNIFICANT TRACTION
A significant feature of the Lamborghini Blancpain Super Trofeo is the rear-wheel drive choice as already adopted in the GT classes. This will allow Super Trofeo drivers to gain important experience of this traction system to facilitate their motorsport careers.
DAUNTING POWER
The new Huracán Super Trofeo adopts the V10 direct injection engine mounted on the road car, managed by a Motec control unit that delivers a maximum output of 620 hp and an astonishing weight/power ratio of 2.05 Kg/CV.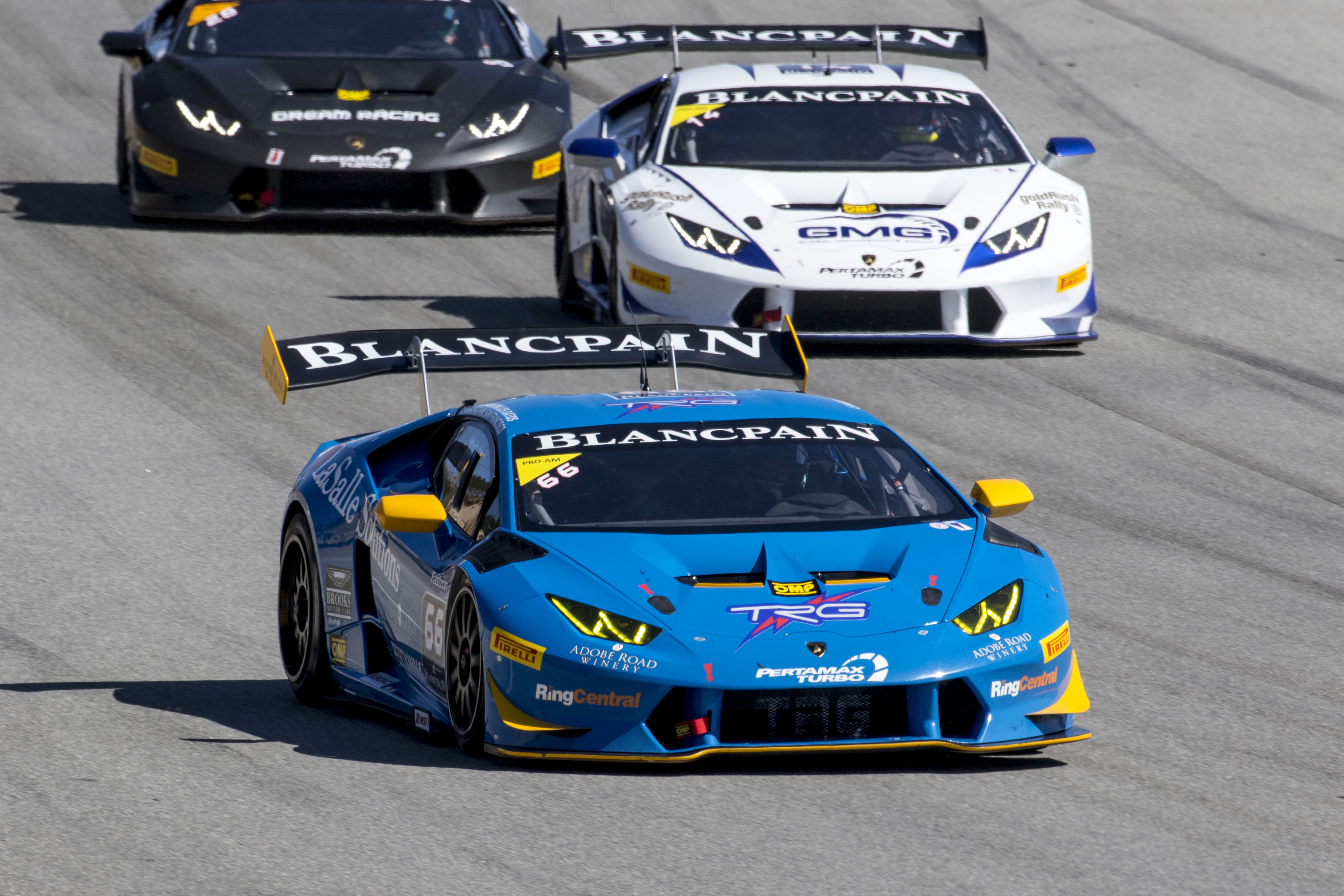 LAMBORGHINI SUPER TROFEO NORTH AMERICA
TRG-Lamborghini Racing is a premier alliance of long-time specialists in amateur and professional motorsports combined with powerful Italian machinery. TRG operates customer driving programs in National Club Racing, IMSA Porsche GT3 Cup, Pirelli World Challenge, the the WeatherTech SportsCar Championship and now the Lamborghini Super Trofeo series. TRG has a long history in GT racing, with over 20 years of success which includes 4 championships, over 70 professional race victories, nearly 200 podiums as well as 4 victories at the Rolex 24 at Daytona (once overall) and the 24 Hours of Le Mans. The team's reputation of success in both factory and customer racing with multiple brands, combined with toptier track support, an expert marketing team and VIP hospitality services, ensures TRG as a trusted partner for today's Lamborghini racer.
The Super Trofeo series provides the perfect first race experience for young and gentleman drivers, with the Lamborghini GT3 providing an outlet for more experienced racers wanting to compete with the Lamborghini marque in the IMSA or PWC GT programs.
Lamborghini Super Trofeo North America is entering its fourth season as one of the most exciting race series, joining Lamborghini Super Trofeo Europe and Asia. In North America Super Trofeo races alongside what is known as some of the premier sportscar racing including the IMSA series. 25-plus car grids compete on some of the most iconic circuits including Watkins Glen International and Laguna Seca, ensuring thrilling action.…LEARN MORE